Best Mountain Bike Shoes of 2021
From lightweight XC models to burly options for downhill and enduro riding, we break down the top shoes for mountain biking
A quality mountain bike shoe plays a number of important roles. Its solid platform delivers power to the pedals, strong construction keeps your feet protected, and secure fit increases comfort for long days on the trail. Our top picks for 2021 below fall into three general categories: lightweight cross-country (XC) designs for extended and non-technical rides, trail shoes that can handle moderately rough terrain, and downhill models for the harshest trails and biggest jumps and drops. Another important consideration is your pedal type, and we've included our favorite options for those who prefer flats or like to be clipped in (somewhat confusingly referred to as "clipless"). For more background information on mountain bike shoes, see our comparison table and buying advice below the picks.
Best Flat Pedal Mountain Bike Shoe
1. Five Ten Freerider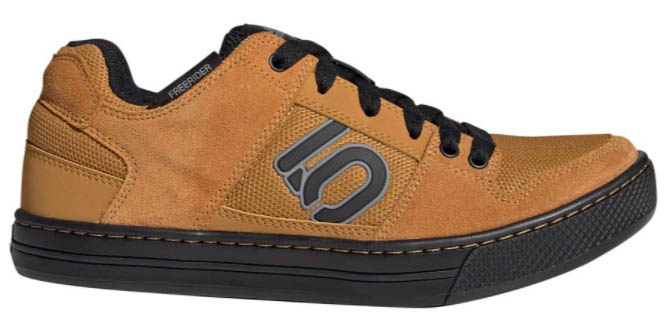 Category: Trail
Pedal compatibility: Flat
Weight: 1 lb. 11.6 oz.
What we like: Proven design with very sticky rubber.
What we don't: Not the most durable and less efficient than a clipless shoe.
Combining legendary grip and a comfortable interior, Five Ten's Freerider is a long-time favorite. The shoe's main calling card is its sticky Stealth S1 rubber and dotty tread pattern, which provide a reliable and secure connection to your pedals for everything from long uphill grinds to popping off jumps and navigating technical features. In addition, the shoe's midsole strikes a nice balance of stiffness to avoid hotspots while retaining enough flexibility and traction on rock for the occasional hike-a-bike (the dotty tread doesn't grip as well in mud, however). Finally, the reinforced toe box and thick upper material offer decent protection and give the shoe its signature look.
Like all platform shoes, one of the downsides of the Five Ten Freerider is that you lose some efficiency and power by not being connected to the pedals. Additionally, the Freerider's soft rubber has a reputation for breaking down fairly quickly, and high-mileage users will find they need to replace their shoes annually (we consistently need a new pair after about 1,000 trail miles). But the shorter lifespan is a fair tradeoff for the fantastic grip the shoe offers, and there's simply nothing else on the market that can match the Freerider's all-around abilities for the price. Of note, Five Ten has released a Primeblue variation for 2021, which utilizes recycled materials in the upper. And for a lighter and more protective variation of the shoe, check out the Freerider Pro below.
See the Men's Five Ten Freerider  See the Women's Five Ten Freerider
Best Clipless Mountain Bike Shoe
2. Shimano SH-ME5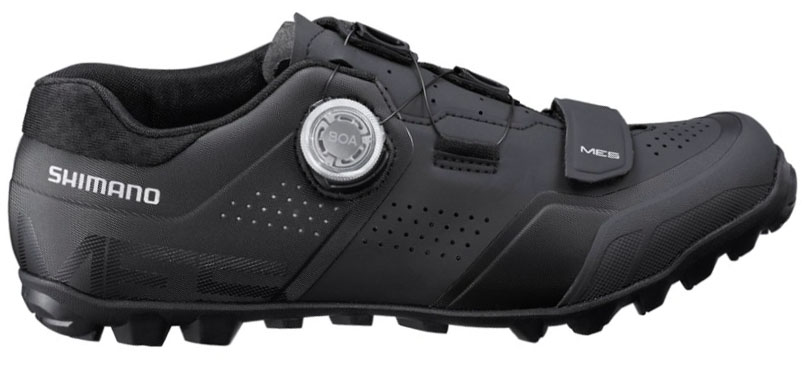 Category: Trail/XC
Pedal compatibility: Clipless
Weight: 1 lb. 8.8 oz.
What we like: Great combination of comfort, weight, and performance.
What we don't: Not as protective as the upgraded ME7 model.
Shimano's ME5 is a do-everything clipless mountain bike shoe. With a light and breathable construction and rigid platform, it can put the power down on punchy climbs, but it's also protective, lightly padded, and quite comfortable inside. The fit is easy to adjust with a proven Boa system and a single Velcro closure across the toes (after setting it the first time, you can just leave the toe adjustment alone). And Shimano honed in the design with a recent update that improves the on and off process—the opening used to be on the small side and required some precision to get your foot through—while reducing the price by $10. On our feet, the ME5 has proven to be our favorite one-quiver clipless shoe for anything from rough trail rides in the Pacific Northwest to all-day epics.
We consider the ME5 to be the best all-rounder on the market, but Shimano's lineup also includes the popular ME7. This shoe has been designed for enduro racing and downhill tracks with its taller neoprene cuff, sticky Michelin rubber (the ME5's is an in-house design that's a bit less grippy on rock), and additional lace guard. You pay a small weight penalty of about an ounce per shoe and the taller cuff can take some getting used to (it felt more restrictive on pedal-heavy days), but the ME7 provides a nice boost in protection and all-weather performance. For certain riders, it'll be worth the extra $40.
See the Shimano SH-ME5
Best Budget Mountain Bike Shoe
3. Giro Berm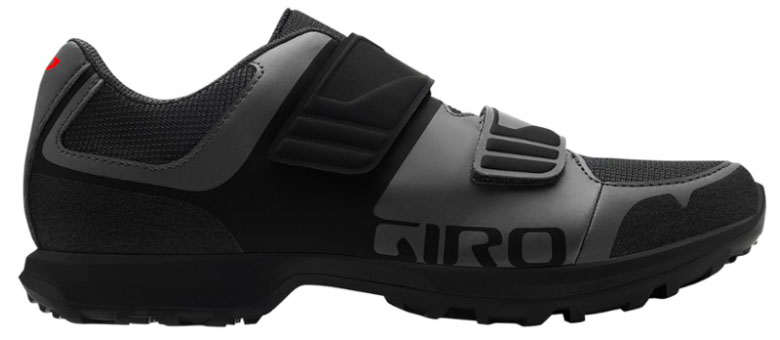 Category: XC/trail
Pedal compatibility: Clipless
Weight: 1 lb. 13.2 oz.
What we like: Fantastic value for a clipless trail shoe.
What we don't: Noticeable step down in performance compared with pricier options.
It's hard to find a quality pair of clipless shoes for under $100, but Giro has managed just that with their new Berm. For a very reasonable $75, you get a surprisingly good set-up for everyday trail riding: a sturdy upper material that mixes breathability with protection, an adjustable fit, and a rubber outsole with substantial lugs for added grip in dirt and mud. Plus, the shoe's wide cleat pocket makes it easier for those still learning the ropes to clip in. It's certainly not a high-performance design like the Shimano ME5 above, and committed riders should steer clear, but we think the Berm offers a whole lot of bang for your buck.
At less than half the price of the top-rated Shimano or Giro's own Cylinder and Ventana below, there are inevitably going to be some compromises in the Berm's design. First up is power: the midsole priorities comfort over stiffness, so its relatively flexible build isn't very efficient. Second, the dual Velcro closures lack the precision and easy adjustability of a Boa or ratchet-style system. And finally, while the outsole is aggressively shaped, it isn't going to grip as well on rock or in particularly steep and rough sections of trail. To be fair, these are all expected sacrifices, and we think the Berm is a truly impressive value option for beginners or those that only get out on the occasional trail day.
See the Men's Giro Berm  See the Women's Giro Berm
Best Shoe for Downhill and Enduro Riders
4. Giro Chamber II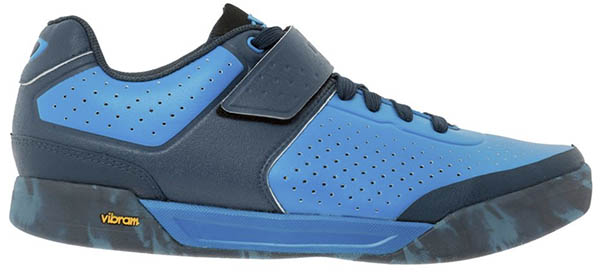 Category: Trail/downhill
Pedal compatibility: Clipless
Weight: 2 lbs. 3.6 oz.
What we like: Clipless compatibility combined with the look and feel of a flat-pedal shoe.
What we don't: Heavy design.
Many top gravity riders choose Giro's Chamber, and the latest II is an even more downhill- and enduro-focused race design. The shoe is perhaps most noteworthy for its casual, flat-pedal-shoe look, but don't be fooled by appearances. With an almost seamless upper, shank that balances rigidity under the middle of the foot with enough flex for comfortable hiking, and adjustable cleat position, this shoe offers the height of performance. The cleat setback of 10 millimeters is especially intriguing—essentially, it's the positioning of a flat-pedal shoe combined with the power of a clipless connection, resulting in less foot fatigue and better control on technical terrain.
While the Chamber II has dropped some weight from its previous iteration, there's no denying that this is not a light shoe. Its robust design, which is made to take on miles of gnarly trail abuse, does little to shave weight. Although the Chamber II is known to pedal quite well, it wouldn't be our first choice for all-day slogs or XC rides. Also, while laces can be great for getting that perfect fit, we prefer Velcro straps and ratchets for their quick micro adjustments and general ease of use. But with impressive durability and protection, and a stiff sole that offers exceptional power transfer, the Chamber II will be well worth its weight for serious riders.
Best of the Rest
5. Five Ten Freerider Pro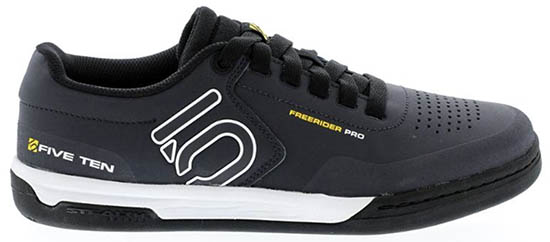 Category: Trail/downhill
Pedal compatibility: Flat
Weight: 1 lb. 7.8 oz.
What we like: Lighter, stiffer, and sleeker-looking than the Freerider above.
What we don't: Its outsole still wears out as quickly as the $50-cheaper standard model.
As the name indicates, Five Ten's Freerider Pro is an upgraded variation of the popular Freerider shoe. For another $50, you get a lighter and more water-resistant synthetic upper, stiffer midsole for better shock absorption, and sleeker look that forgoes the standard model's skate shoe-like styling. In addition, the toe box has been reinforced and includes some foam padding to provide an additional layer of protection from impacts (although we've found the standard Freerider's toe box to be pretty tough). Importantly, you still get Five Ten's class leading Stealth S1 rubber, which is simply unmatched in terms of grip and reliable hold to your pedals.
Who should opt for the Pro model over the cheaper Freerider? If your local terrain is particularly tough or you get out in wet conditions, the synthetic upper material is a nice upgrade over the heavier and more absorbent leather/mesh combination that comes on the standard model. On the other hand, you're not getting any noticeable improvement in on- and off-bike traction or fit with the simple lacing systems, and both models will have fairly short lifespans due to the soft rubber compound. In the end, the Pro has its merits for committed cyclists and those that will value the weight savings, but many trail riders will be better off with the standard model.
6. Specialized 2FO DH Clip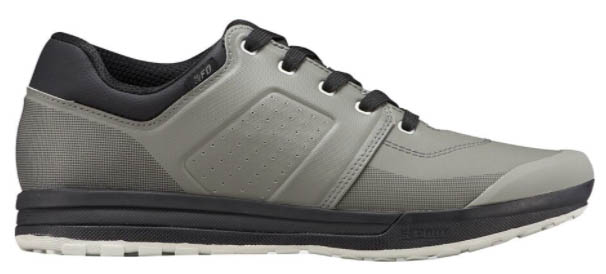 Category: Trail/downhill
Pedal compatibility: Clipless
Weight: 1 lb. 12 oz.
What we like: Powerful, sturdy, and great traction.
What we don't: We miss the old dual Boa cinch design.
Taking the place of the popular 2FO Cliplite in Specialized's lineup is the new 2FO DH Clip shoe. Right off the bat, we want to address the "DH" in the name: despite the beefed-up design that's tough and downhill-ready, we think that's selling these shoes a bit short. With a composite nylon plate underfoot, a reasonable weight of 1 pound 12 ounces, and trimmed-down build that dries fairly quickly, the shoes are plenty capable on mellower terrain and long trail rides. And for the enduro and downhill enthusiasts among us, Specialized has done a great job incorporating extra protection around the toes and heel cap, and the slightly raised padding along the inside of the ankle is another nice touch.
While the 2FO DH is in most ways an upgrade from the outgoing Cliplite (while costing $10 less), we do miss the old model's dual Boa closures. The laces on the new DH are perfectly fine and can be tucked away under an elastic band to keep them from flopping around, but they can't match the micro adjustability and all-around convenience of the Boa system (Specialized does have this feature on their XC-oriented Recon series). But with great off-the-bike traction and a versatile design, we fully expect the new 2FO DH is be a best seller. And if you prefer to ride flats, the 2FO DH Flat ($160) is one of only a few models on the market to legitimately give Five Ten a run for its money in pedal grip.